PotGuide

The Comprehensive Guide to the World of Cannabis
Our visitors vary from cannabis curious to connoisseur to professional. Connect with over 20 million visitors per year.
PotGuide visitors are searching for dispensaries and delivery options, looking for deals, researching brands and products, planning vacations and so much more.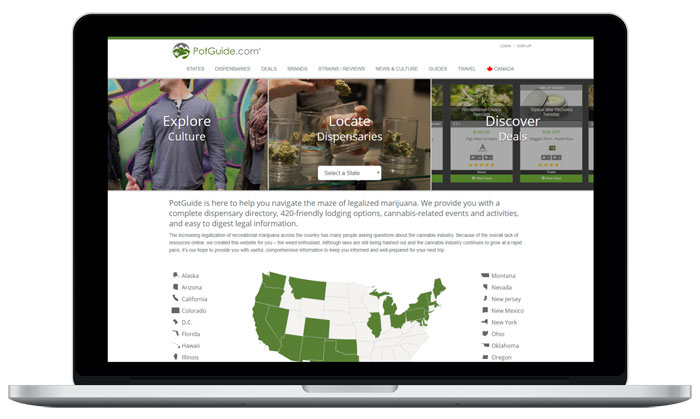 Keep reading to learn more about PotGuide or select your business type below:
Connect your business and see a real ROI.
PotGuide has a broad spectrum of content and directories allowing for many opportunities to promote your brand and business.
Directories and content for 38 US States and Canada
6,500+ dispensary and delivery profiles
Infused cannabis brands and product directories
Cannabis focused event calendars
Social lounge directories
1,000+ top ranking articles
300 in-depth brand product reviews
350 strain reviews with macro photography
30+ extensive guides
(concentrate guide, travel guides, MMJ Card, 4/20, etc.)
420 friendly lodging options - commercial and private
Consumer email list with over 60,000 subscribers
Since the start of legalization, visitors have relied on PotGuide to know where to buy, where to stay, and what to do.
Visitor Demographics:
Learn More:
Thrive with PotGuide
Complete the form below and we'll be in touch about adding your business: